It's like having invisible solar panels.
You simply join a local solar farm and automatically receive credits on your normal electric bill.
A Together Solar representative walk you through your enrollment and help you determine the amount of solar capacity you need based on your normal energy usage. This number is usually no more than 90% of your normal usage.
You will earn solar credits for your share of the energy that is produced by the solar farm which will be delivered directly to the power grid. Your utility will automatically reduce your electric bill to reflect the credits from your share of the solar farm production.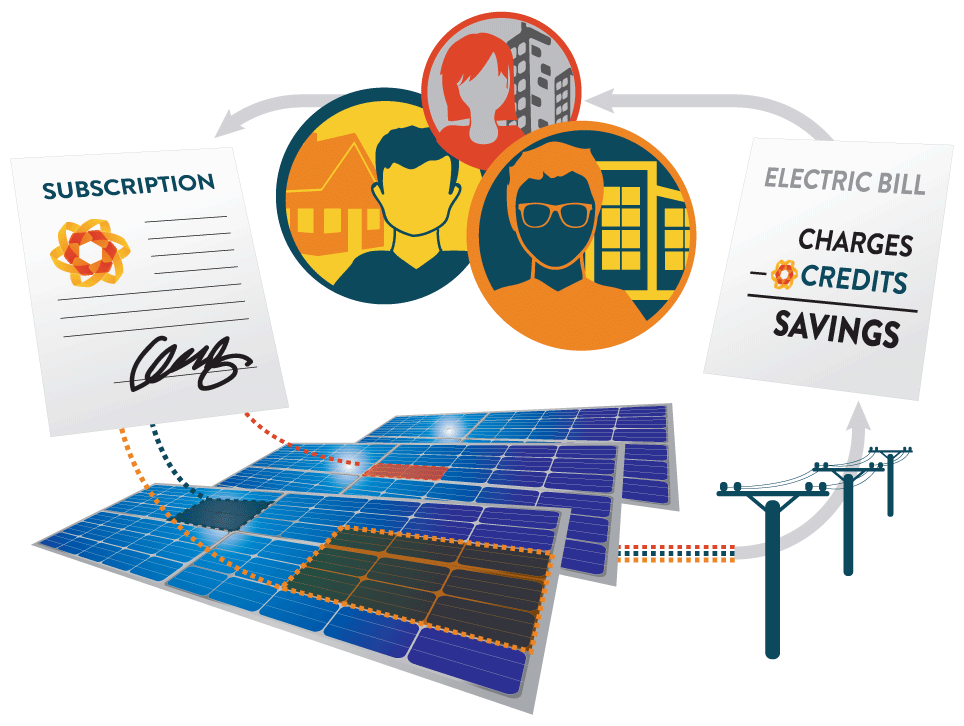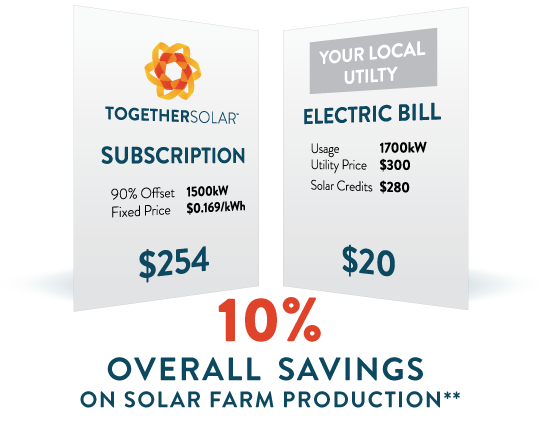 Here's one way you might save
$26 MONTHLY SAVINGS**
$312 ANNUAL SAVINGS**
CLEAN ENERGY FROM THE SUN
Billing BREAKDOWN
Together Solar Subscription
You only pay for the kWh produced by your shared of the solar farm, and the price per kWh is fixed.
Your normal electric bill
You will still receive your normal electric bill from your current utility company. Together Solar works with your utility to make sure you receive credit for the energy your share of the solar farm produces.
Solar Credits
This amount may vary depending on the production of the solar farm and the utility tariff levels. In the winter you may see fewer credits due to lower solar production but you only pay for what the solar farm produces. However, in the summer months you may see significantly greater production.
ILLUSTRATIVE SAVINGS**
   $254 

Together Solar
– $280

Solar Credits
**Savings estimate is based upon Together Solar prices compared to the utility bill credits that result from the solar farm production. Utility bill credits are based upon blended summer and winter utility tariffs. Actual utility tariffs and resulting bill credits vary over time. Because we cannot predict what future utility tariffs will be, savings cannot be guaranteed.
Ready to go solar?
Space is limited and we expect to reach full capacity quickly.