Go solar without solar panels
Enjoy the benefits of solar energy without the hassle and expense of installing panels at your home or business.
Join a shared solar farm
Offset a portion of your energy usage with a share of solar-generated power from a local farm.
Earn Solar Credits
As clean energy is delivered directly to the power grid, you'll earn credits for your share of capacity generated.
See Monthly Savings*
Your regular utility company automatically applies your solar credits to your monthly electric bill.
And spread the sunshine too…
Help those in need
A portion of our profits are regularly donated to critical infrastructure projects for communities in need.
Feel good about more than just clean energy.
We put your energy to good use by partnering with organizations and funding projects that bring clean energy and clean water to underpriviledged communities.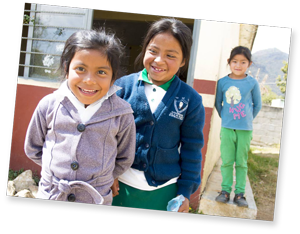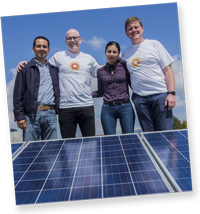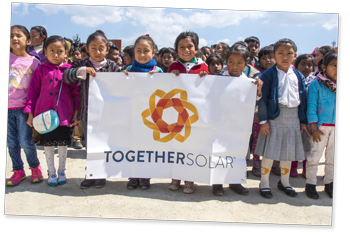 Solar energy is now non-exclusive
Homes and businesses who can't (or don't want to) install rooftop solar at their property can now buy their share through a local solar farm.
Multi-Unit Residents
Live in a condo, apartment or townhouse? No problem.
Renters
No need to own your home – only a utility account is required.
Shady Rooftops
Your roof is obscured by shade or situated to avoid sunlight.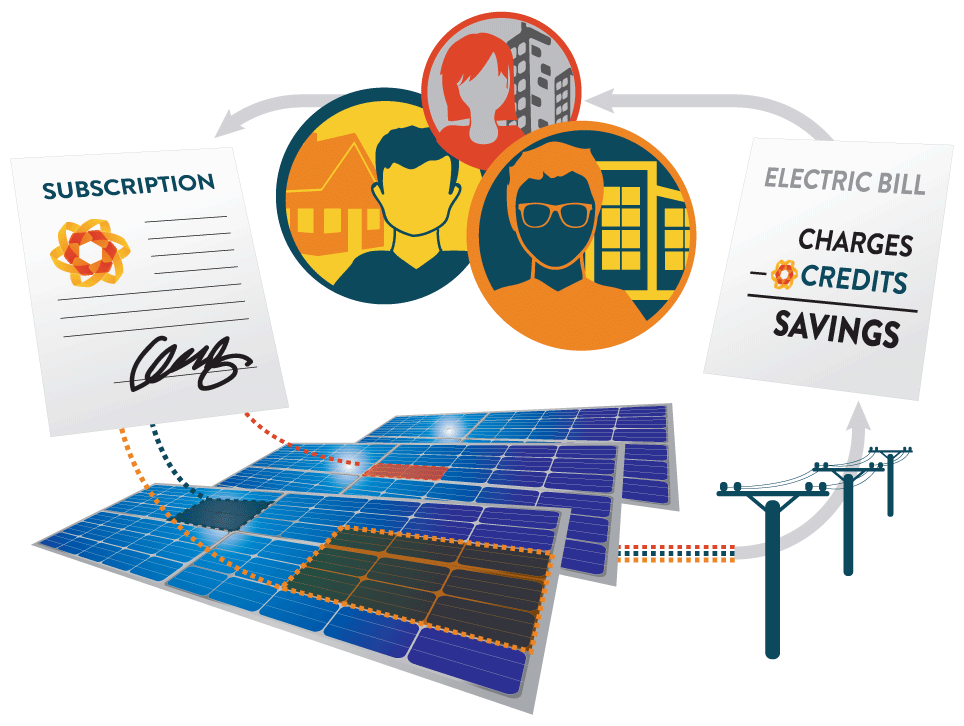 No-Hassle Clean Energy
No unsightly panels on your roof. No appointments to your home. No maintenance and no worry. Your solar farm is professionally maintained to maximize productivity.
Sunshine and Savings
Save up to 10% or more compared to the local utility rate.** Our fixed-rate agreement protects members from rising utility rates and seasonal rate spikes.
Perfect for Small Homes
It doesn't matter whether you live in a single family home, duplex, condo, townhome, or apartment. Everyone can go solar. Owners and renters of homes or businesses are welcome!
Portable Power
Moving? No problem! When you relocate within the same utility area and load zone, your membership moves with you.
Rooptop vs Shared
Don't get us wrong, rooftop solar is a great choice if you qualify. However, it has been estimated that about 80% of homes don't qualify or don't prefer a rooftop installation. Here are some considerations associated with rooftop and shared solar options.
| | | |
| --- | --- | --- |
| COMPARE | | |
| Can Lower Electric Bills* | | |
| Creates clean energy | | |
| Professional maintenance | × | |
| Good for owners & renters | × | |
| Good for small homes | × | |
| Requires shade-free roof | | × |
| Large upfront investment | | × |
| In-home installation | | × |
Ready to go solar?
Space is limited and we expect to reach full capacity quickly.
*Typical savings based on Together Solar pricing versus applicable utility rates. Utility rates are subject to change and savings are not guaranteed and vary depending on location, electricity usage, system production and utility rates.  Actual savings will vary based upon Together Solar products in your state and utility area.
**Savings estimate based upon typical Together Solar prices compared to the utility bill credits that result from the solar farm production. Actual utility tariffs, and resulting bill credits, vary by state/utility area, and also vary over time. Because we cannot predict what future utility tariffs will be, savings cannot be guaranteed.